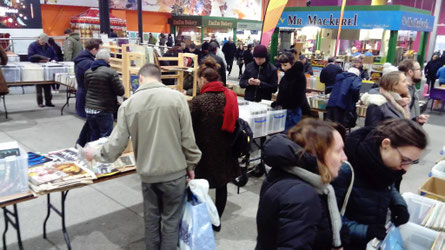 Anyone good at music probably gets 45 + 33 = 78 revolutions per minute. This means that there will be some shellac at the next record fair in Leeds, so get there early before it breaks. There will also be 000s of vinyl records travelling at two speeds. Some people don't like the word "vinyl" but it sounds better than lino . . . on January 13th 1976, the UK number 1 was Bohemian Rhapsody by Queen, from the album A Night at the Opera. On the same day that year, Sarah Caldwell became the first woman to conduct at the NYC Metropolitan Opera House . . . . It takes about 6 or 7 hours to get from New York to Leeds Record & Book Fair, which takes place in the 1976 Hall at Kirkgate Market, named after the year it was constructed after a fire in 1975. Part of it was recently refurbished and became the Events Space. As well as thousands of records, there will be a great selection of collectable pulp fiction, art books and more. There might even be a few opera records.
 About 25 stallholders will be at the fair. These include:
 Tapestry of Delights – mixed bag of genres, new & 2nd hand https://www.tapestryofdelightsrecords.co.uk
 Bill Aitken – new and second hand, 60s to present day, mainly rock, pop, folk, and a bit of everything
 Dragnet Records & Books – pulp fiction, magazines (film, music, underground), and records  https://dragnetrecords.co.uk/
 Noise for Heroes – https://www.facebook.com/Noiseisforheroes
 Paul Swinnerton (paulnorth1 on Discogs) record dealer, and tour manager for UK Subs, Cock Sparrer and others.  Sells new and used vinyl - punk, oi, garage, reggae, ska, northern soul, indie and funk. 
 Phil Wade - rare original pressings of prog / psych / Beatles / R Stones / P Floyd
 / Led Zepp / Hendrix / Black Sabbath /  beat / indie / new wave / 90's / 2000 . . .
 https://www.facebook.com/LakesRECORDandCDfair
and lots more